Steubenville School District Big Red Stadium
Steubenville School District Big Red Stadium
In the final phase of a multi-year, multimillion-dollar renovation of Harding Stadium – one of the finest high school stadiums in the state of Ohio – the Steubenville City School District selected Carl walker Construction to provide a complete facelift for deteriorated bleachers on the visitor's side."Our goal is to give all fans the best seat in the house," Steubenville High School Principal Ted Gorman told local media, when the District determined that the visitor's bleachers, originally constructed in the 60s, should be refurbished to have the same look as home field seating.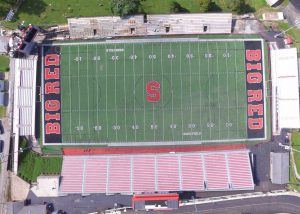 At the School District's exclusive invitation, we prepared a proposal to design/build the project, understanding that our proposal would be used to invite competitive bids to assure best costs for the District. Our original estimate ultimately turned out to be the lowest, and we were awarded the bid. One of the greatest advantages of our design/build process we offer is the savings clients enjoy on project design services.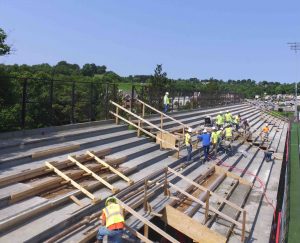 We began work on March 25, 2019 and were given the charge to complete the project by July 12, well ahead of the season opener.
Half the bleachers, constructed of precast concrete treads and risers on steel frame structure, needed to be completely demoed, and much of what remained required patching. Standing structural steel was stripped and painted, and a new drainage system was installed to preserve the integrity of the repaired structure.
Union Cemetery immediately abuts the rear of the visitor's section, and we understood the critical need to leave this property undisturbed. Our solution was to snake concrete placement hoses through the end-zone scoreboard and across the entire length of the stadium to deliver the 107 tons of concrete to the 13 bleacher sections, access stairs and the rear wall we were replacing.
As the finishing touch, we applied a premium elastomeric waterproofing to extend the visitor's section life even further.
We finished the project on budget and three days ahead of schedule. Go Big Red!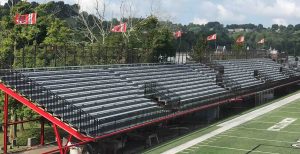 Project Highlights
• Industry – Sports Facility
• Location – Steubenville, OH
• Specifications:
– Full depth bleacher repair
– New waterproof envelope