Market Street Parking Structure 
Market Street Parking Structure 
Rebuilding WHeeling – The City of Wheeling is undergoing a renaissance. It is upgrading its streetscape, rehabbing bridges and converting its tallest building, a former steel industry headquarters, into apartments. The revitalization could not be a success without sufficient parking, and Carl Walker Construction is overcoming multiple challenges to provide that asset.   
Construction of a 252-space, mixed-use facility on a severely constrained site began in April 2022.  By self-performing the concrete and waterproofing work, Carl Walker Construction was able to bid the design/build project at a price significantly lower than other competitive bidders, helping Wheeling to stretch its precious tax dollars further while still delivering a high-quality product.  
The first floor is being built to accommodate retail space. To protect that level from water that is tracked into the garage above by vehicle traffic during rain and snow, Carl Walker Construction's bid included installing a split slab waterproofing membrane on the garage's second floor, to serve as a roof. After pouring the weight-bearing slab, a heavy waterproofing system will be installed, and then covered by another concrete slab for vehicles to travel on.   
The façade will be a mixture of glass and precast masonry, with metal panel accents so the structure will mesh architecturally with surrounding buildings. Stair towers will have glazing elements. The facility includes an on-site underground stormwater retention system that will reduce flooding after heavy rains and protect the city's sanitary sewer system from infiltration.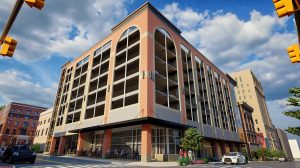 THE CHALLENGES – Urban garage construction often presents challenges, and this project has several that the versatile Carl Walker Construction team is conquering. The site is constrained on two sides, requiring all work to be launched from a single direction, 11th Street.  
One side of the structure is a mere four inches from the building next door, a Wheeling landmark that is the focal point of the city's renaissance. The 12-story former Wheeling-Pittsburgh Steel building is undergoing a $30 million renovation into apartments and retail space, a project which could not move forward without parking. Carl Walker Construction's team is taking great care to protect that neighbor during construction.  
Another side of the structure abuts an alley and loading dock for a federal building about 10 feet away.  Partners on the project are architect Victor Greco of Mills Group and structural engineering firm Walter P. Moore and Associates.   
The Market Street Parking Structure is scheduled to be complete in May 2023.  
Project Highlights
• Industry – Commercial
• Location –
Wheeling, West Virginia
• Specifications:
–
252 parking spaces 
–
Post-tension construction with 99,000 sq. ft. of supported area 
–
Mixed use with future retail fit out on ground level  
–
Precast and cast stone panels with glazing elements on stair towers and metal panel accents