Erie Veterans Memorial Stadium
Erie Veterans Memorial Stadium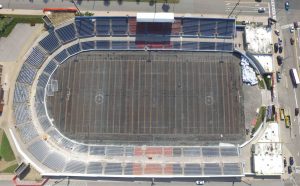 A Venerated Stadium Restored
When the Erie, Pennsylvania school district determined that Erie Veterans Memorial Stadium, a 10,000-seat high school sports venue and the third busiest high school playoff stadium in the state, was in need of a facelift, they selected Carl Walker Construction to manage a significant repair project. We were called on to perform concrete restoration and waterproofing, replace railings and sections of the roof, as well as to coordinate with electricians, plumbers, and an independent contractor who was laying new turf.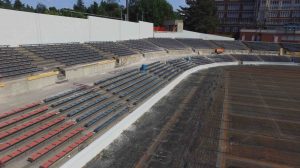 Completely self-performing, we repaired, caulked and capped stadium walls, installed new concrete slabs in the ticket booth area, made upgrades to restrooms, and replaced roofs on three outbuildings. After repair, concrete surfaces were painted with a breathable acrylic waterproofing, and we replaced 950 feet of rusted rails with new galvanized painted railings.
Ready for the Next Hundred Years
To accommodate the tight summer schedule, we began surveying in the snows of February 2019. When construction started, we took the lead in coordinating competing schedules with the contractor who was replacing the turf under the same compressed timeline. From project inception, our work had to be adjusted to accommodate the turf installation, and we would need to manage scope changes and a variety of unexpected challenges without missing a looming critical deadline. All of this was accomplished while staying under the original budget this resulted in a 2.5% savings to the owner.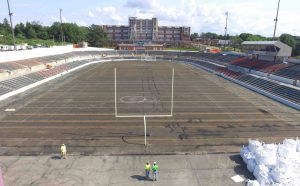 Neal Brokman, Executive Director of Operations for the District, said "We had surprises at every turn," like finding buried live electrical conduit that was not on any drawing, and delays in the anticipated arrival of the turf. "Keeping the project on track was a feat in its own right," Mr. Brokman said. "Carl Walker took it all right in stride. The communication was great. There was nothing I didn't know about."
"I am beyond satisfied with the work performed," he said. "The Stadium looks brand new, like it has been restored to last another 100 years."

Neal Brokman
Executive Director of Operations
Project Highlights
• Industry – Sports Facility
• Location – Erie Pennsylvania
• Specifications:
– Repair concrete in a structure erected in 1924
– Replace safety rails
– Facilitate turf installation
– Adhere to critical schedule