Destiny USA
Restoring Critical Parking for America's Largest Mall – Destiny USA, in Syracuse, New York, with over 250 places to shop, dine, and play, is the nation's largest shopping mall, so large it has its own zip code. Self-designated as "automobile oriented," with 25-million visitors each year, the owners, Pyramid Management, understand that convenient parking is critical to their tenants' ongoing success.
A parking garage should have a service life of about 50 years. Spalling, cracking, and visible corrosion to structural elements of their two-level north garage just thirty years after construction led the owners to turn to Carl Walker Construction to rehabilitate the facility.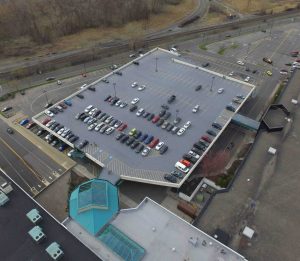 We started with an in-depth analysis of the existing precast double-T flooring, including petrographic analysis and chloride-ion analysis of the standing structure. Our complete fix required 4,000 square feet of full-depth removal, and 1,200 square feet of partial replacement. We replaced all joint sealant and shear connection angles.
To address the problem of premature obsolescence, we designed and installed a significant drainage system, and made the structure watertight with an elastomeric deck coating–ten times thicker than paint–on weather-exposed surfaces.
Because of our careful analysis and comprehensive restoration of the facility, Pyramid Management can confidently expect another 30 years of service life.
Project Highlights
• Industry – Retail
• Location – Syracuse, New York
• Specifications:
– Full petrographic and chloride ion analysis
– 4,000 square feet of full deck replacement
– 1,200 square feet of partial replacement
– Pre-cast double-T concrete
– Painted steel superstructure
– Elastomeric topcoat