Allegheny General Hospital and Mon Valley External Reinforcing
Allegheny General Hospital and Mon Valley External Reinforcing
CWC successfully performed many external reinforcing repairs to different types of structures over the years, but the two most impressive external reinforcing repairs were performed for Allegheny General Hospital and the Monongahela Valley Hospital. Both projects had to reinforce lost post or pre-tensioned cables that had failed within their concrete members.Allegheny General Hospital has a pre-cast parking garage located on James Street where all of the patients and family members must park to visit the hospital. CWC was asked to perform external reinforcing repairs to three pre-cast double tee stems that were in a severe state of failure. The pre-tensioned cables in two of the stems had been completely removed by a previous contractor, and the mild steel reinforcing was not designed to provide adequate support during normal operations. CWC removed the failed concrete, formed and poured a new stem, and then a 1" diameter threaded bar was installed and stressed to equal the internal forces lost by utilizing custom-designed galvanized steel stirrups.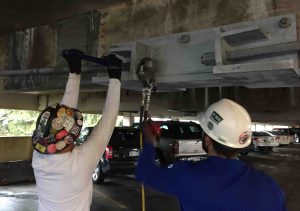 The Monongahela Valley Hospital garage is a complete cast in place post-tensioned structure. CWC was called to provide pricing to repair a PT beam that had 7 of the 13 cables broken and blown out of the bottom of the beam. CWC installed the designed steel support system that included core drilling one hundred, 1-1/2" holes through a 12" thick beam so 1-1/4" bolts could be installed and epoxied into the beam to support the final forces applied. A 2" diameter bar was then placed and stressed to the final capacity to replace the lost internal forces of the beam.
When internal pre or post tensioned cables are no longer performing their structural duties, it can be complicated and extremely costly to repair the structural members. These external strengthening systems put the owner's mind to rest, showing that it is possible to perform durable work requiring low maintenance to restore the structural member back to its original function.
Project Highlights
Industry – Hospital
Location – Pittsburgh, PA
Specifications—
385 spaces completed in under 5 months
57,000 SF of supported area
Steel frame – post tension decks